We focus on Safety & Service for Customer Satisfaction
With Alpine Demolition you know that you are working with a company that has over 20 years of experience, dedicated managers, equipment operators, and employees whose main goal is to maintain customer satisfaction and complete the project ahead of schedule, within budget and safely.
Alpine Demolition takes pride in the work we deliver and our goal is for each customer to have complete satisfaction and a better understanding of the project.
While maintaining customer service is a priority; safety is our main concern. We want all of our employees to return home safely after each day and we ensure safety by maintaining our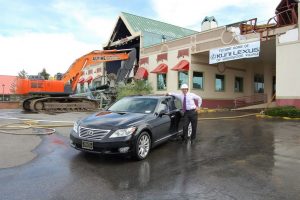 equipment and vehicle fleet as well as preparing site-specific safety plans. Safety at Alpine is never compromised. We leave nothing to chance in this area. A double check is conducted of all equipment, personnel, materials, and the project site. All codes, specifications, and regulations must be met to ensure the safety and integrity of the project and people directly and indirectly involved.