About Alpine Demolition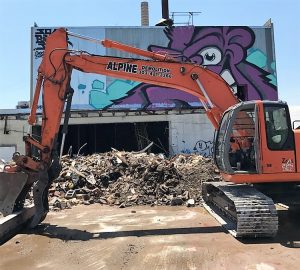 Alpine Demolition Inc. began over 30 years ago as a small company that provided only demolition services. Over the years, Alpine Demolition has expanded its services to include interior, exterior demolition services as well as environmental abatement services to include asbestos abatement and lead and mold remediation as well as underground storage tank removals and soil remediation. Alpine Demolition services a wide range of customers from commercial, public agencies, residential, the private sector and industrial facilities.
Demolition, Deconstruction, Recycling
Alpine Demolition is committed to re-using and recycling materials to help lead the next generation into green building. Alpine Demolition can achieve an impressive recycling rate of near 90% on most demolition projects. The key to this is to carefully deconstruct the building instead of demolishing it. At times this can be more time consuming but in the end, the decision can save thousands of dollars in transporting fees and can generate our client revenue from the sale of salvaged items. Rescuing materials on site or re-selling those items helps to contribute to the high waste reduction and a cleaner environment. Alpine Demolition is reaching new heights in construction and demolition recycling.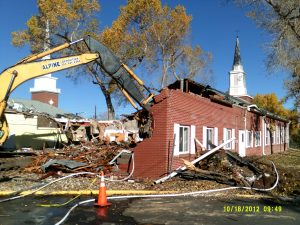 Alpine Demolition strives to be the leader in their industry by most importantly listening to their clients and responding to their needs. Alpine Demolition understands that each project is different and will approach each project with knowledge and understanding of all background information which will help prevent unnecessary disruption during the project. Once our jobs begin with our client, they are the number one priority, our focus is to effectively complete the project and to continue to follow up with our client to make sure we have fully met our customer's expectations.
Safety is #1 on all projects and all safety requirements, regulations and specifications are adhered to which will protect both the people on the project and the integrity of our work.  For each project, a project-specific safety plan will be created to both identify any potential hazards and identify any required training that needs to take place prior to the project starting.
Alpine Demolition's guarantee is that we will provide the best dollar value while maintaining safe and quality workmanship and providing innovating techniques to our customers. Alpine Demolition prides itself on offering our services with quality expertise, attention to detail, and meeting each client's needs, Alpine Demolition can always be depended on.