Thank You Denver Post – Alpine's Denver Demolition Coverage
We love having our demolition projects covered by the news and we are proud of serving the Denver Metro Area.  The Denver Post has followed our safe demolitions and Demolition Company for years, and we love being a part of Denver, Colorado's History and Future.

Wrecking ball meets Denver hotel
via: Denver Post Demolition Coverage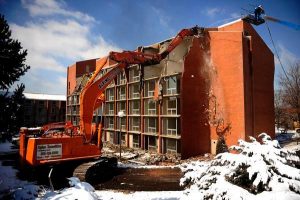 PUBLISHED:  | UPDATED: 
Alpine Demolition began today to bring down a Denver landmark at Interstate 25 and East Hampden Avenue.
The hotel, built as a Marriott in 1974 and transformed into the Four Points by Sheraton Denver Southeast five years ago, is meeting the wrecking ball.
When the lease expired in 2008, Four Points owner Starwood Hotels & Resorts opted not to re-up. The property reverted to the hands of the landlord – the Gaiser family, a storied clan of developers with real estate holdings throughout the metro area.
The Gaisers had entered into a ground lease on the site with Marriott in 1974.
Now that Starwood has pulled out of the project, the Gaiser family needs to figure out the future of that prime piece of property.
See more images of this Denver Demolition Coverage.