Thank you Channel 9 News Denver – For covering another one of Alpine's Denver Demolitions. Here at Alpine Demolition & Recycling, we are proud of our demolition work and safety record. The whole Alpine Demolition company loves having our projects covered by the news.  Channel 9 News Denver, has followed our control demolitions and Demolition Company for years, and we love being a part of Denver, Colorado's History and Future.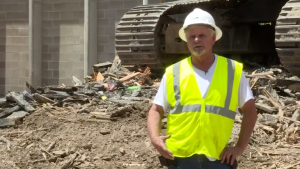 The demolition crew starts to remove what's left of a burnt construction site in Denver
The site is at East 18th Avenue and North Emerson Street, where a construction site in early March caught fire, killing two and damaging nearby buildings and cars.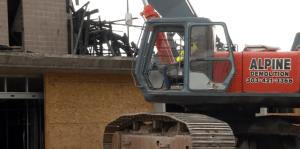 DENVER — Changing from a button-down, collared shirt into a plain white one with a bright construction vest, Jim Gochis prepared for a project he already did less than a year ago.  Gochis is the owner of the Arvada-based Alpine Demolition. His latest job is to clear out what remains of a building at the intersection of East 18th Avenue and North Emerson Street in downtown Denver.
See more images of this Denver Demolition.